This series of murals at Queen & Ossington was at the hub of the activity for the 2016 inaugural festival. Rally Ossington served as the nucleus for the project hosting artist accommodation, gallery show, information outpost and a series of events. Thanks to our wall hosts, Hullmark Developments, 2 Ossington condo board, Queen West Storage and Horwath cigars.
Our supporters brought the 2016 festival to light and enabled us to welcome artists from around the world to share their camaraderie in volunteering for the Sea Walls mandate and protecting what we love.

Invasive Species / Disappearing Native Species by Cinzah Merkens (NZ)
Cinzah's mural combines two topics; invasive species and disappearing native species. The work depicts an imagined creature of the sea…an amalgamation of threatened native species with a variety of recently introduced invasive plant species, entwined in a delicate balance of life and death.
These combined issues relate directly to our introduction of alien species to the lakes via the ballast waters of internationally bound shipping vessels.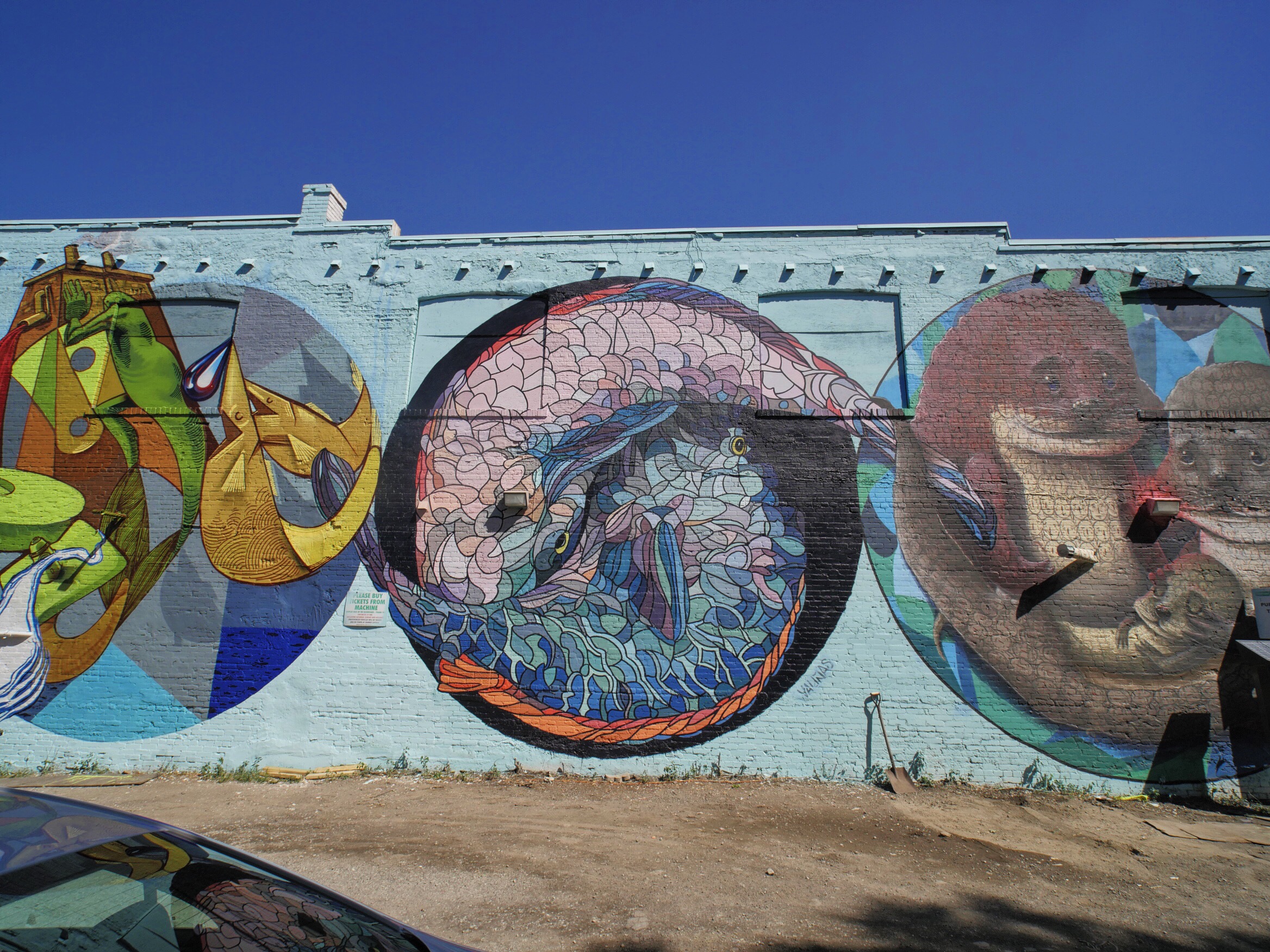 Sermob (MX) Valiñas (MX) Sens (MX)
This mural is a collaborative work between three amazing Mexican muralists, who together, on one giant surface, created a spectacular and virtually seamless conversation around three separate issues. Left, Sermob, focused on water quality. Industries and individuals must assume responsibility to wastewater treatments before returning it to any natural waterways. Middle, Valiñas, atural equilibriums can be changed significantly, and at times with disastrous consequence. Right, Sens, depicts the love and strength of the otter, as a metaphor of how humans needs to protect themselves and the environment.
Ecological Balance Theory by Valiñas (MX)
Miguel's contribution to the wall depicts the Ecological Balance theory, which stipulates natural conditions, including numerous animal and plant species, remain stable on their own through natural variation over time. It also holds that this natural equilibrium can be changed significantly, and at times with disastrous consequence by a new species entering an ecosystem, signaling the disappearance of native species as a result.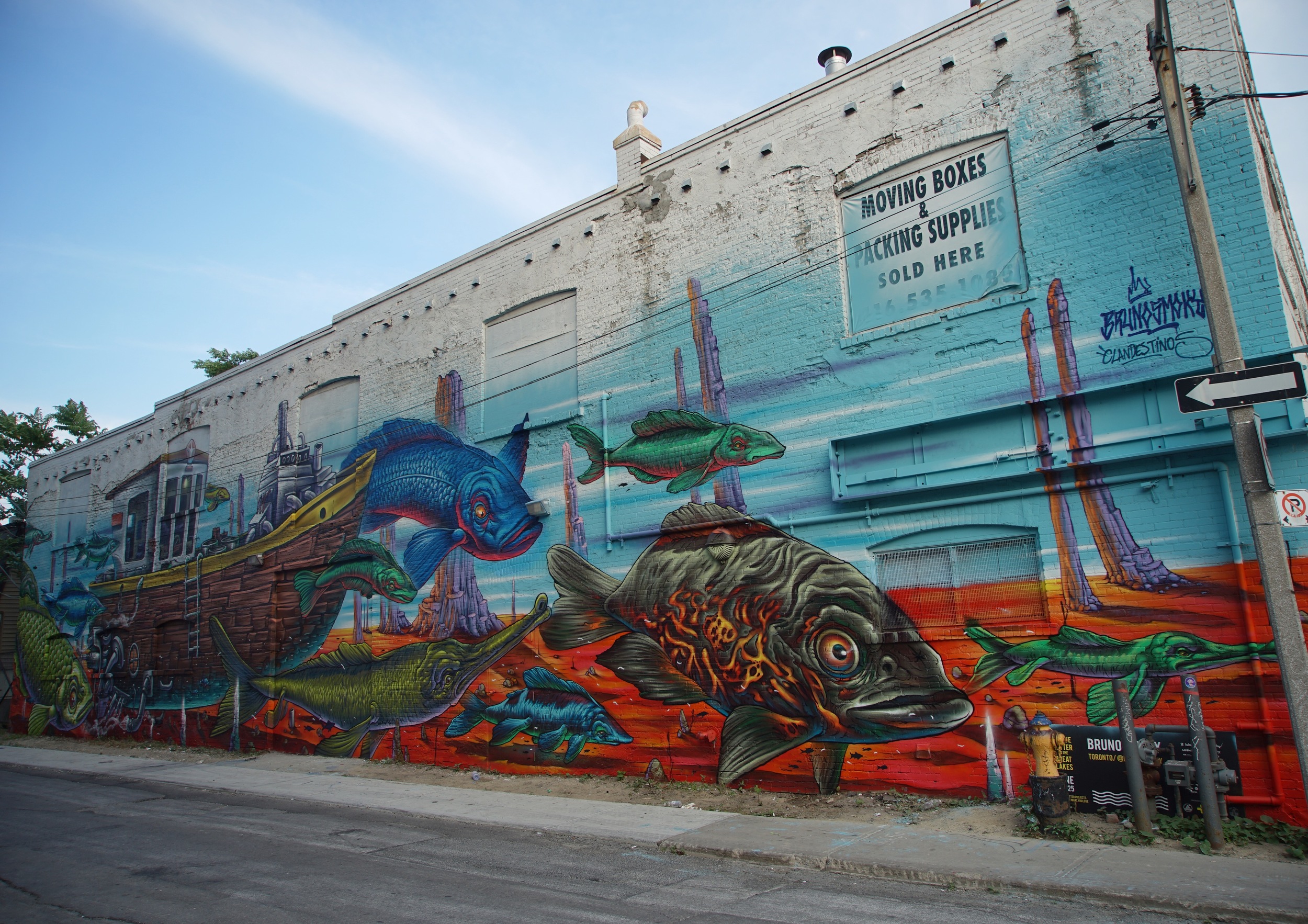 Environmentally Decay / Good God the Lakes are Lovely! by Bruno Smokey (TO)
Bruno's mural is an epic portrayal of the beauty and richness of life in Lake Ontario.
"With the climatic changes and the neglect of many human beings unfortunately all this may come to an end. On this piece I devoted friendship and coexistence between man and nature in a sustainable way. An imaginary and magical fish station is flying next to a fishing boat in search of life, as the birds migrate to other land in times of cold and difficulties in this case given the opportunity to fish do the same and choose their own future."
Lake Ontario, while the smallest of the Great Lake Basin, is yet the 14th largest lake in the world.
But plagued by Viagra in the water, fish unfit to eat or driven to extinction, and with crucial environmental standards ignored, its incredible diversity of birds, fish, reptiles amphibians and plants are under threat, especially those associated with shorelines, sand dunes, lagoons, and wetlands.
Butler Garter Snake by BIRDO (TO)
Birdo's mural depicts the Butler Garter Snake, which is a very familiar reptile in the Great Lakes region. "Like many, I have fond childhood memories of these snakes and was shocked to find out that they have been on the Government of Ontario endangered species list since 2009. With this mural I wanted to 'elevate' this snake to raise awareness that this a major issue that is a lot closer to home than most would consider."
CArgo ship channels by Christopher Konecki (USA)
"This mural addresses the utility and potential danger of cargo shipping. Not a condemnation of the industry but hopefully it calls to question where the goods we use come from." recounts Konecki with his signature smile.
In 1959, the opening of the St. Lawrence Seaway linked ports in Montreal to Lake Ontario, opening the system to the world. Today, annual shipping surpasses 200 million net tonnes, with nearly one quarter of travel to and from international ports. Due to this traffic, the region is now the world's fourth-largest economy, with a GDP of $4.7 trillion, accounting for 28 per cent of combined Canadian and U.S. economic activity.
This makes the region particularly vulnerable to global climate change, especially with low water levels, extreme weather conditions and invasive species. These threats have a direct in all of our lives.
We gave Chris the wall next to Birdo, and the two decided immediately to share a common turquoise background to create a strong visual coordination across all of the various planes of the building, literally covered from head to toe. Chris is equally comfortable with mind-boggling large walls along side of simple, relatively small surfaces such as this one. Armed with only a humble ladder, an armful of spray paint, and a wicked concept, he powered out this wall with typical grace and humour.
Birdo (TO) x Konecki (USA)
The mural conveys the sarcastic Idea of this #walleye catching himself, this is a freshwater perciform fish native to most of Canada but are now presumed extinct. Because walleyes are popular with anglers, fishing is regulated by most natural resource agencies. Management may include the use of quotas and length limits to ensure that populations are not over-exploited.
Living Water by Peru (TO)
This mural portrays the reality of the Great Lakes region as the forth-largest economy in the world, with 400 billion made through the cargo ship channels since the late 50s. In the early 1900s, disposal of sewage and wastes into lakes led to outbreaks of cholera and other diseases so a treaty was signed to prevent it from getting the worst.
The Great Lakes are linked to the world's ports through a system of channels, locks and dams stretching from Duluth, MN to the Gulf of St. Lawrence -- a 2,340-mile journey. And while it is a vitally important source of jobs and revenue, the shipping industry is also a major source of environmental damage. The erosion of shorelines and wetland habitats are of special note, especially during high water periods.
Point Source Pollution by Caratoes (HK)
Cara's mural conveys the idea that we are all in this environmental fight together and we "share the same aquarium," whether we are visibly connected or not. Point source pollution in the region has been problematic for decades. The majority of people living in Ontario are on the Great Lakes watershed…everything we do as individuals, governments, and industry affects the water and the ecosystems it supports.
In recent years, there has been a decrease in point-source pollution that can be attributed to a specific industry, chemical, or company, largely thanks to the government action in the form of bi-national legislation, such as the Great Lakes Water Quality Agreement (GLWQA).
However, we still face threats from PBDEs (flame-retardant chemicals), increasing mercury levels in harbours, re-suspension of contaminated sediments due to runoff and atmospheric deposition, and on. It's a cycles, what goes down the drain, resurfaces.
invasive vs disappearing species by Olivier Bonnard (MTL)
Olivier's mural combines two topics, invasive species vs. disappearing native species. The mural depicts figurative monster creatures living on the top of the Great Lakes, threatening the native species living in the bottom. A juxtaposition of invasive plant forms and seaweed living in this unique oneiric world, half realistic and half terrifying, which represents the possession and submission from one animal to another and the risks of Ontario's native species. He hopes to inspire global awareness of this largely under-addresses issue.
Great Lakes Wetlands by Jon Todd (TO)
Jon Todd's mural depicts a large scale Cormorant bird composed of plants, birds and animals found in the Great Lakes Wetlands. "This ecosystem provides a crucial habitat for the many fish and animal species of the Great Lakes and is in danger of being destroyed due to controlled flooding and draining."